How to choose office chairs?
Typically, office chairs are classified into three main types: a chair for people who occupy management positions, for office guests, and for employees.
for managers and managers, above all, differ in their size. These models have a wide seat, also large armrests, seat height adjustment and angle of inclination. To cover used expensive materials that allow the skin to breathe. Ordinary office chairs for employees, as a rule, have a simplified structure and are small in size. These models should also be height adjustable, in addition to this there should be armrests.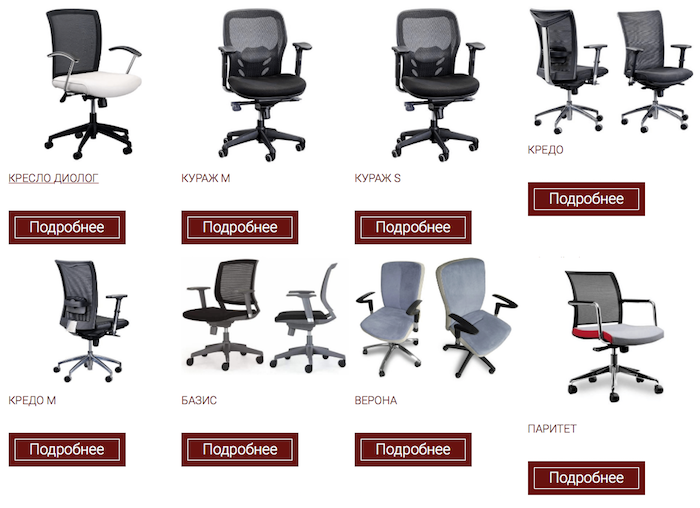 For guests, the chairs in the office should be as simple as possible. Simple legs, made of metal as a support, can be used. The main criterion when choosing a chair for customers is a simple and beautiful appearance. The seat in the office chairs is divided into3 types:
• medium hardness;
• solid;
• Soft.
In addition, it is necessary to forget about such an important detail as gas lift. This detail allows you to control the height, which is an important criterion when choosing a chair for the office. The back of the chair is also an important part of it. We can say that this is the main element of the chair, which provides comfort to the person sitting in it. In order to maintain healthy back, the angle of inclination should be about 90 degrees. Preferably, the backrest will be anatomical, as this will provide greater comfort.
One of the important points when choosing an office chair is the synchro-mechanism built into the inside of the chair. With the help of this mechanism, the spin will always be in a calm state, this mechanism repeats the movement of the one who sits in the chair.
As for the material, it is better to give preference to environmentally friendly and health-friendly materials. It is possible to use natural leather, as well as synthetic material, if it has a breathing effect and does not threaten health. The choice of color depends on the purpose for which the seat is bought.For office it is better to choose quiet shades, gray or black. However, when choosing an office chair for working at home, it is permissible to give preference to any shade you like, which corresponds to the interior of the house.
Office chairs are an incredibly important piece of furniture, as a person does work while sitting in a chair. Therefore, you should pay attention to the fact that the chair in the first place was as comfortable as possible.
Related news
T-shirt rug
What should I bring with me to rest?
How to make beautiful figures out of salt dough
Workshop Vacuum
Delicious French Meat
Tips for growing beautiful dolichos