Manty in a pan: an elegant dish for an everyday table
Lack of mantyshnitsy - not a reason to deprive yourself of such delicacies as manti. You can prepare them in a frying pan, but also with a chic vegetable pillow. Delicious, juicy, attractive externally they will quickly become a favorite home dish and a visiting card for guests.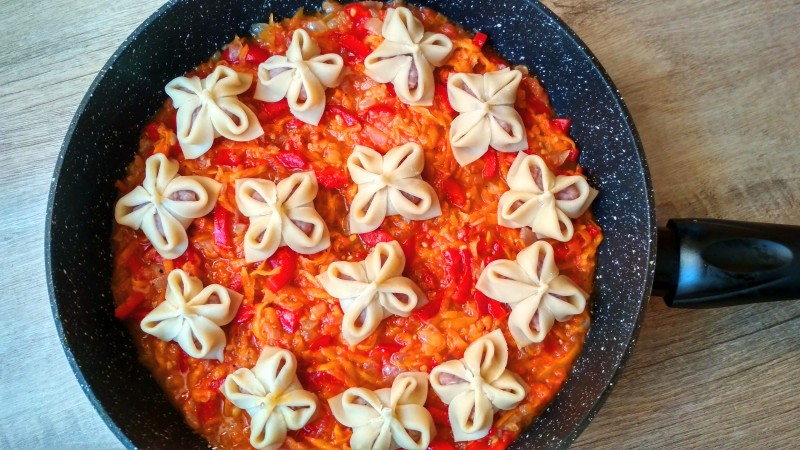 Manty in the pan: always excellent results
Dough:
500 g of flour;
0.5 tsp. salts;
300 ml of water;
3 tbsp. refined vegetable oil.
Filling:
600 grams of minced meat;
2 onions;
salt and pepper to taste;
greens - at will.
Vegetable pillow:
2 bell peppers;
2 onions;
400 grams of tomato;
2-3 tablespoons vegetable oil;
20 g of butter;
water;
parsley - on request;
salt and pepper to taste.
We start with the test. We mix the sifted flour with salt and gradually pour hot boiling water into it, without ceasing to stir with a spoon. Also gradually introduce vegetable oil. Mix well and let cool slightly.Warm dough knead until smooth, then put in a bag and give half an hour to ripen at room temperature.
We twist the meat with onions and herbs or combine with them the ready stuffing, salt and pepper, and then knead well.
We turn to the preparation of vegetable pillows. Chop the onion into small cubes, pepper - straws. We rub carrots on a coarse grater and then tomatoes (holding them by the skin).
Pour the vegetable oil on the preheated pan and add butter to it. Slightly fry the onion, as soon as it starts to flush, add carrots and simmer until it becomes soft. We introduce Bulgarian pepper with tomato, salt and pepper. Give a few minutes to extinguish and remove from heat.
Thinly roll out the dough and divide it into squares of approximately 7x7 cm. The edges of the square are wrapped inside, and then turn it over.
In the middle of the inverted square we lay out the forcemeat, and then we connect the corners crosswise and spread out the "petals".
When all the mantas are ready, put them in a frying pan with a vegetable pillow, fill with water for at least a third and no more than half, cover with a lid and send it to simmer for 20 minutes.
After disconnecting, sprinkle with parsley and serve to the table.
Related news
Small highlights
Construction of modular buildings during a crisis
Choosing the right contact lenses
Subtlety and nuances of industrial style in the interior
Basics of knitting crochet mittens (basic course)